Culligan® Hot Water Softeners by Culligan® Stainless are designed to provide a constant source of softened hot water supply for the food & beverage, healthcare and service industries.
Restaurants, cafeterias, laundry operations, healthcare facilities and many other operations can now enjoy the benefits of Culligan® soft water. Increase overall equipment efficiency and life. Reduce the use of detergent and chemicals. Provide spot free glassware and dishes, improving customer experience. Boilers, steamers, dishwashers, sterilizers, parts washers all benefit from treated water.
CULLIGAN® ADVANTAGES:
All 316L Stainless Steel tank
Stainless Steel internal distributor
Premium Culligan® Cullex® Resin
Designed for service temperatures up to 180° F
High temperature control valve
Stainless Steel by-pass
Hot water brine tank with safety brine valve
7-day timer automatic regeneration controller
Compact design easy to install
Short lead times
System Specifications
Examples of Softener Applications
Food and Beverage
Improved taste
Educational Facilities
Boiler and cooling tower make-up water for scale reduction and improved energy costs
Restaurants
For dishwashing, cleaning material savings, scale reduction
Car washes
Quality results, detergent and water heating savings, scale reduction
Apartment buildings, assisted living facilities and hotels
Quality water for laundry, dishwashers, boilers
Grocery / Retail
Quality water for aesthetics and help extend equipment life
Light industry
For process and make-up water, boiler and cooling system pretreatment, general housekeeping
Sales Manager
859-236-4965
for more information
Copyright 2013, Culligan Water Conditioning of Danville. | PO Box 244, Danville, Kentucky 40423-0244
859-236-4965 | 800-892-6414 (within Kentucky) | Fax 859-236-4965
Site Updated May 31, 2013 | Page last updated December 18, 2017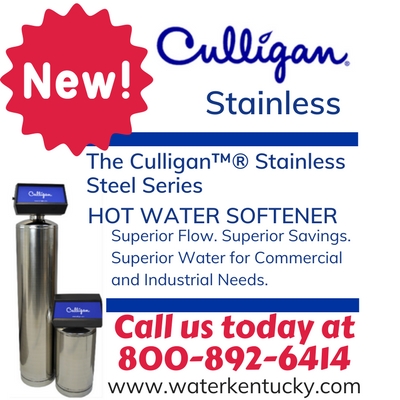 Markets Served:
Clinics
Educational Facilities
Energy / Power
Food / Beverage Production
Food Service / Restaurants
Grocery
Healthcare / Hospitals / Bio-Pharmaceutical
Hospitality / Lodging
Manufacturing
Municipal Drinking Water
Oil / Gas
Warranty
Culligan's Hot Water Sofeners are backed by a limited 1-year warranty against defects in material, workmanship and corrosion.
For Price Quotation
Or Preliminary Design

Contact Culligan of
Danville Kentucky

phone:
800 892-6414
email:
culliganky@qx.net